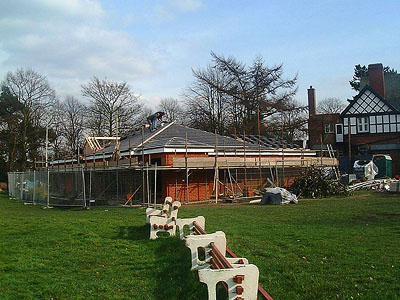 Elworth Cricket Club is the premier club in the Sandbach area of Cheshire. Club Design was approached to advise on an application to refurbish, extend and upgrade the pavilion and also to provide a new net practice area. The strength of the club's commitment to junior cricket development was a key attribute in the successful application for grant funding.
Funding: Sport England – National Lottery, clubs own funds
Approximate Project Value: £130,000
Description:
North Staffordshire/South Cheshire League Club
Traditional form of contract
Sport England Lottery Funding
Negotiate new lease with Landlord
Extension to clubhouse and new roof
Complete refurbishment of all internal areas
New artificial grass practice wickets, nets and match wicket
Services provided:
Aid with grant application. Preparation of reports and business plan. Continued work in application process.
All plans, elevations, site layouts and specifications.
Submission of planning applications.
All architectural work and project management, including tender action and appointment of contractor.