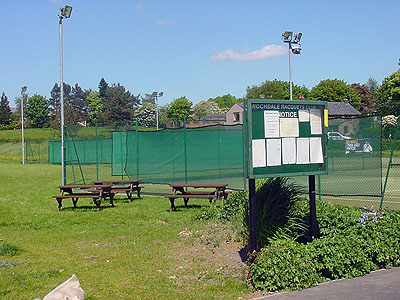 Rochdale Racquets Club was once located behind Highfield Hospital and suffered from ongoing significant vandalism problems. In the year leading up to the club's relocation, local thugs broke into the clubhouse and the damage was so severe that the clubhouse had to be closed and boarded up. Club Design was engaged to sell the site to a housing developer and to identify a new site to house tennis courts and changing facilities. Rochdale Racquets Club is now sited at Bamford Fieldhouse Cricket Club and boasts some of the best courts in the town.
Funding: Sale of site to a housing developer, FSA Grant
Approximate Project Value: £180,000
Description:
League Tennis Club
Traditional form of contract
Negotiate long lease on Local Authority land
New Floodlit Tennis courts, car park and changing rooms
Extension to existing club house
Services provided:
Sale of land to developer.
Negotiations with owner of new site.
Additional grant application.
Full feasibility study with costing information.
Full business plan.
Negotiations with planners, local people and local councillors.
All plans and site layouts.
Submission of planning application.
All project management work, including tender action and appointment of contractors.